Lebron James player quiz: how much do you know? Take the quiz!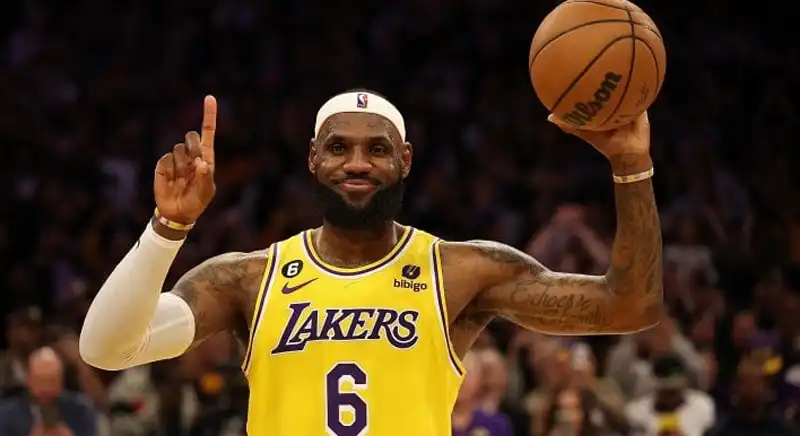 If you are a basketball fan, you surely know the legendary player Lebron James. But how much do you really know? Test yourself with our quiz! You'll discover trivia and details about the life and career of one of the greatest athletes of our time. Take the quiz and find out if you are a true Lebron James expert!
LeBron James, also known as "King James," is one of the most famous and talented basketball players in the world. Born in Akron, Ohio, on December 30, 1984, he started playing basketball at a young age and quickly proved his talent. After playing at the high school level, James was selected as the first overall pick in the 2003 NBA Draft by the Cleveland Cavaliers. During his first season, he quickly proved to be an outstanding player, averaging 20.9 points, 5.5 rebounds and 5.9 assists per game. In addition, he was named Rookie of the Year. Over the years, James has continued to demonstrate his talent, becoming one of the most dominant players in the NBA. He played for the Cleveland Cavaliers, Miami Heat and Los Angeles Lakers, winning four NBA titles and numerous individual awards. But it is not only his talent on the field that has made James so famous. He is also known for his social engagement and activism. He founded the LeBron James Family Foundation, which focuses on educating young people and supporting low-income families. In addition, he has spoken publicly about social issues such as police brutality and racial inequality. But getting back to his talent on the court, James is known for his ability to pass, shoot and jump. He is also a very versatile player, able to play a variety of positions. He averages 27.0 points, 7.4 rebounds and 7.4 assists per game in his career. His most memorable moments include winning the 2016 NBA title with the Cleveland Cavaliers, his 51-point performance against the Golden State Warriors in 2018, and his triple-double in Game 7 of the 2016 NBA Finals. James is also known for his work off the field. He has starred in several movies and TV shows, including "Trainwreck" and "Space Jam: A New Legacy." He is also a successful entrepreneur, with his LeBron James line of shoes and his investment in Blaze Pizza. In conclusion, LeBron James is one of the most talented and famous basketball players in the world. His skill on the court is unquestionable, but he is also known for his social commitment and activity off the court. Without a doubt, he will continue to be a dominant force in the NBA for many years to come.